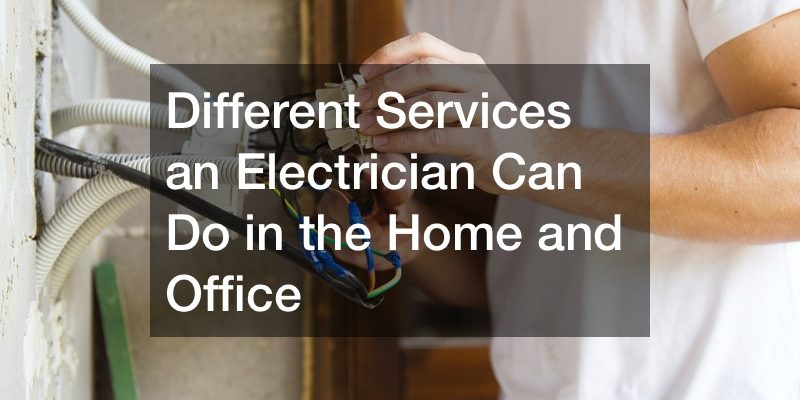 Different Services an Electrician Can Do in the Home and Office

The electrical wiring system in your home or office is vital for your comfort and convenience. This system works in different ways; operating lights, providing heat, cooling the house, and charging various appliances. You'll need to understand how this electrical system works to know when something is amiss. However, relying on a professional could be a better decision. Such will be the time to engage an electrician, who will provide the following services.
Residential Electrical Services
A residential electrician focuses on domestic electrical services, including wiring, installation, and repair. You can rely on this professional to complete your wiring system, maintain the electrical system, and install lights. They will also diagnose and fix the issues within your residential electrical system.
An excellent residential electrician will handle various residential appliances too. They will ensure that specialty appliances or machinery, including fridges, microwaves, and washing machines, are in excellent condition. You'll hire them to undertake electrical panel install changes, enhance surge protection, and carry out various lighting maintenance, installation, or repair services.
Plumbing and electrical services are interdependent. As such, expect a residential electrician to work hand in hand with a plumber. They will ensure that various installations and fixtures do not affect each other, enhancing your safety in the long run. These two professionals will often work together during construction and when remodeling houses.
Commercial Electrical Services
You'll need a commercial electrician if you want a job done on any commercial property. These professionals understand the various electrical service regulations, ensuring that your office or commercial property is compliant. Such compliance protects you against numerous lawsuits in the long run.
This professional will help enhance the electrical safety of your building. You'll be sure of incredible service when handling inadequate circuits, whether repairing or replacing them. They will also install and maintain wiring, cushion the structure against significant fire hazards and even downtime.
Various specialty appliances in the office require an electrician. For instance, this professional will deal with the generators, security surveillance systems, and air conditioners within the building. Sometimes, they will help restore your printing services by fixing printers and computers alike.
Maintenance Electrical Services
Suppose you want your electrical wiring system to remain in top shape. In this case, it would be best to inspect them regularly, identify faults and address them. That means the electrician will guarantee various electrical systems are safe and that they work efficiently. These systems could be residential or commercial.
Maintenance involves various smaller tasks or projects. For instance, an electrician might need to handle the power grid in your building or fix heavy machinery in a factory. Each of the problems dealt with requires troubleshooting. This technician will conduct multiple tests and inspections, capturing all the issues at hand. This way, the project becomes more seamless in the long run.
A maintenance electrician comes in handy when taking care of your home appliances. This professional will recalibrate your temperature settings, avoid overloads, and clean refrigerator coils. They will address any noise caused in the device, ensuring that it functions quietly.
Powerhouse and Substation Services
Suppose you have a powerhouse, substation, or an electrical company, and you want to ascertain that the electrical current is safe. In this case, it will help if you hire a reliable electrician. This electrician will ensure that the electrical current is relayed safely and in the correct form.
This electrician will work in three main areas: the powerhouse, relays, and substations. Working in the powerhouse means that the electrician will need to deal with high-voltage Ac electricity, which is generated and transferred to substations. Here, the professional needs to lower the AC voltage at the substation, making the electricity safe for residential and commercial space use.
You could also rely on a professional to help maintain the relays. The technician will step the voltage up or down, ensuring that the electricity is safe for consumption in residential and commercial properties.
Security and Fire Alarm Installation Services
Proper installation of your security and fire alarm assures you of excellent monitoring and fire detection. These systems will often help improve your safety only when functioning correctly. Yet, proper functioning requires the professional services of an electrician.
You'll need a technician specializing in security and fire alarm services. This expert will help install the devices correctly, assuring you with excellent surveillance abilities. Such proper installation implies that the devices will also last long, functioning accordingly.
At the same time, this electrical technician comes in handy in inspecting and maintaining the security and fire alarm devices. Regular inspection and maintenance allow the expert to troubleshoot and identify issues before they balloon. All you need is to hire an experienced professional. Such a professional must also understand the data recovering process.
Appliance Installation and Maintenance Services
Suppose you purchase a kitchen appliance today. In this case, you will need a professional to help you install it. Hiring an electrician specializing in the specific brand or device would be best. This way, you are confident of premium-quality services.
Various appliance companies have embraced different technologies, including Bluetooth and internet connectivity. For this reason, handling different brands becomes a challenge. This aspect has forced many companies to certify their electricians, ensuring that customers get the best service when necessary.
Always pick a professional that specializes in a specific brand. Extensive experience in a particular brand implies that the professional understands the ins and outs of the appliance at hand. Their knowledge allows for much better services, including minimal chances of further damage.
Electrical Inspectorate Services
An electrical inspector is a qualified professional who helps observe, repair, and maintain various electronic components. This expert plays a critical role in enhancing the safety of your lighting, electrical wiring, and appliances, including generators and motors. In addition, they confirm your compliance with multiple government regulations.
This professional often works in the construction industry. They ensure that the wiring and electrical systems in the building are per the set regulations. You'll also expect them when doing your house renovations or remodeling. Usually, they are better placed to offer insightful information on maintaining the best wiring or electrical system.
An excellent electrical inspector will keep records, making it easier to keep track of problems within a building. Notably, this inspector can stop your workers from the job, mainly if your electrical system is not compliant.
Electrical Instrumentation Services
Each home and office comes with different building control systems. Whether you have an air conditioner, refrigerator, or heating system, you'll need a professional to diagnose, test, repair, or commission it. Fortunately, this is where an electrician steps in.
A typical electrical instrumentation expert will help calibrate various measuring instruments. Calibration ensures that your appliances, especially those with thermostats, function correctly. In addition, this technician will install controlling devices and sensors on time.
Notably, this technician works with other specialized electricians. That means they are likely to engage other experts once they note a problem with your electrical wiring system. Electrical instrumentation services are necessary for different industries, including food processing plants, oil refineries, and manufacturing plants.
Automotive Electrical Services
Automotive electrical services are critical in ensuring that your vehicle, truck, or bus is functional. This service focuses on repairing, maintaining, inspecting, and replacing various vehicles' electrical system components. It requires a specialized technician to troubleshoot the electrical system and solve the identified problems.
An automotive electrician could specialize in specific departments or be a general contractor. Some of the areas this professional can specialize in include ignition systems, air conditioning and heating systems, anti-lock braking system, fuel injection, transmissions, and anti-theft systems.
When hiring this technician, it would help if you chose a specialized one. Specialization allows the technician to perform thorough checks on your electrical wiring system, providing a more in-depth service. In addition, ensure that this professional is experienced enough to handle your car lest you suffer significant losses in the long run.
Electrical Machine Repair and Rewind Services
Your building has several devices, including fans, transformers, and compressors. All these machines need excellent electrical services from qualified personnel. Fortunately, that is what you get from an experienced electrical machine repairer and rewinder.
This electrician will dismantle and re-assemble different devices used in a home or office. They will ensure the electrotechnology components connect coils and wind coils. As such, your screen printing business will benefit from these business IT companies. That is because they will ensure that your printers are in great shape.
Electrotechnical Panel Building Services
Your HVAC system will hardly function without a reliable electronic panel. This electronic panel can only be installed and maintained by an electrotechnical panel technician. Notably, electronic panels are not limited to residential places only. Instead, you can find them in offices, industries, and manufacturing plants.
An electrotechnical panel builder relies on various programmable logic controls to help install and maintain this electronic panel. In addition, such a professional must be conversant with different information technologies, making the programming tasks much more effortless. What's more, it becomes easier for them to read electrical schematics and panel layout blueprints comfortably.
Proper installation and maintenance of electrical control boxes ensure that your electrical system and appliances function correctly. However, you'll need to regularly engage this professional to inspect and maintain the electronic panels. It will help avoid downtime in your business.
Wind Turbine and Solar Energy Electrical Services
Everyone is cautious of the environment. For this reason, many companies have invested in non-renewable energy, including solar and wind turbines. Maintaining these electrical systems will ensure that you get energy more efficiently.
An electrician will help install, assemble, and maintain your wind turbine and tower. This move ensures that electricity generation is smooth and effortless. Since most wind turbines are in high-altitude and remote regions, expect them in such areas.
This professional will need to feather the turbine blades. Feathering ensures that the turbine blades turn effortlessly, enhancing airflow and electricity generation. In turn, the turbines perform with maximum efficiency.
Suppose you need a professional to help maintain your solar energy system. In this case, you will require a professional who specializes in solar power. This expert will help you assemble, install, and maintain your solar energy system.
Telecommunications Line Installation
Your internet and phone connectivity will always depend on electrical services. A telecommunications line expert will come in handy to install and maintain telecommunications lines, assuring you better connectivity.
A telecommunications electrician will install, fix, and repair telephone, internet, and cable lines. These lines often run between towers, poles, or buildings. They will also help troubleshoot internet and telephone issues, addressing the problem soon.
You could also rely on them to replace or repair broken lines. They will also help diagnose the problems with these lines, ensuring optimal functionality.
Emergency Electrical Services
Some events are unexpected, for instance, floods, tree damage, and hurricanes. In such cases, various appliances could suffer water damage, compromising your safety. Your electrical systems could also get compromised at odd hours. That means you will need an electrician to help repair, replace, or install different fixtures, appliances, and electrical components. An emergency electrician will be at your disposal at any time to help avert further crises.
Outside Lineman Electrical Services
The electrical lines between commercial buildings and residential properties need constant attention. Fortunately, an electrician will help handle these lines, including repairing, installing, and maintaining them. You can also expect them to string new lines between poles and replace them when broken. Their goal is to ensure an efficient supply of electricity.
These professionals ensure that the line installation is as per the set regulations. This move will help increase the safety of the people living or working within the region. In addition, they can help troubleshoot and identify issues with faulty lines, restoring electricity within a relatively short period.
In conclusion, people depend on different electrical repair service. Yet, they might not understand which service provider specializes in. Understanding these specializations will help ensure that you hire the right professional to help handle your appliances and electrical systems. This will be an easy task in the long run with the information provided above.