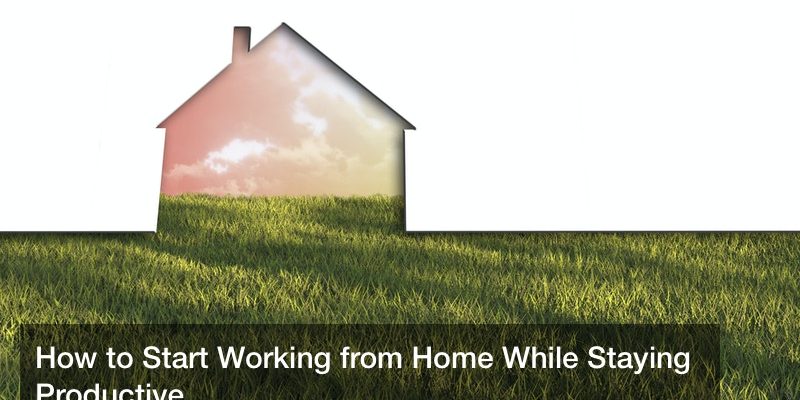 How to Start Working from Home While Staying Productive

Amid the ongoing coronavirus pandemic, many of us are spending a lot more time at home and working from home. Rather than driving to an office, and sitting at a desk, thousands of workers across the United States are doing their work from the comfort of their couch or their kitchen table. In fact, it's estimated that more than 40% of Americans worked from home during the time of COVID-19.
For some, working from home can be a blessing. You get more time to spend with family and you get to do your work in a more relaxed environment. But for other folks, the transition is not always easy, especially when you're used to the routine of working at an office.
The key to working from home ultimately is to try to create an environment for yourself that allows you to focus on your job. Whether you have to start working from home, or you're already used to working from home, here are some tips to create a functional environment that allows you to be productive:
Pick A Good Spot
If you're going to start working from home, there's no better place to be productive than in your home, which is a place where most people feel comfortable. But the truth is that a good work space looks different for everybody. For some, a home office helps fuel their creativity. For others, that work space needs to be a quiet environment where they can really concentrate on the task at hand.
To be productive you need to determine how you divide your day and then find a space that allows you to make the most of that time. For example, if you're more creative in the morning, you can spend time working and getting the bulk of your tasks done, and then spend the afternoons relaxing and doing tasks that don't require as much brain power.
If you really want to fuel that brain power, it might be beneficial to create a home office for yourself. Regardless of whether you're telecommuting, or running a home-based insurance agency business, or you just need a place to pay the bills, a home office can really help you make the most of your productivity.
An office space should really be its own separate space and be away from other household activities.
For example, it's not exactly the best idea to create a home office on your dining room table because your dining room is obviously the source of a lot of activity. If you have a spare bedroom or even an office in your house that you haven't utilized yet, consider that space and make the most of it to turn it into the perfect coworking office space for you and your significant other:
Find a desk of some kind where you can easily fit a computer or a laptop.
Get a good comfortable chair to sit in while you work.
Have a space for files or reference materials you may need via a bookshelf or a filing cabinet.
Hang a few knick-knacks on walls that may include pictures of your loved ones or motivational posters or quotes.
If you're really looking to create a calming environment, consider adding house plants, fresh flowers, candles, or even lighting.
A home office doesn't exactly have to replicate your business office as you start working from home, but that doesn't mean you can't turn it into a space that allows you to be productive and complete important tasks in a timely manner.
If you start working from home full-time, you might also want to consider transforming your garage into a home office. If you're a creative type, this is the perfect project to transform your garage (or part of your garage) into the perfect place for productivity. You can improve your garage lighting by installing some enlisting the help of a residential wiring expert and install some brand-new LED lighting.
Get Rid Of Clutter
A clear mind is a focused mind and the same principle can be applied to your work space if you start working from home. As you start working from home, you need to make sure that you're free of distraction. In many homes, this includes getting rid of clutter. Whether it's a home office, or a dining room table, or a sofa, or anywhere else you might want to work, getting rid of clutter can help you stay focused on your work and less on things that are distracting.
Start The Day Off Right
If you think about working from home, you may picture someone sitting around in their pajamas on their couch with a laptop in their lap while the television is on in the background. This routine undoubtedly works for some folks, but it's not true of everyone. If you're going to start working from home, you need to set yourself up for success.
What does that look like? For starters, it means setting a morning routine. That routine might include throwing on some clothes that aren't pajamas. No one says you have to dress in a suit and tie or a dress to work from home, but you can definitely put on some casual clothes that aren't pajamas. It might mean making sure you eat breakfast every day, which you might not always do if you're always on the go in the morning. It also means doing things that allow you to be productive when you most need to be. That may include setting up your coffee pot ahead of time or making a to-do list the night before.
Turn The Lights On
If you're going to start working from home, then you need to be able to see. That means turning the lights on. If you've got big windows with automated blinds at home that allow a lot of natural light to stream in, it's a great way to have some light to work with, not to mention a great view. Otherwise, make the most of table lamps and floor lamps to give yourself all the light you'll need to complete the tasks you have. The worst thing you want to do is to have to strain your eyes because the lights are turned on.
If you have a home office in your garage, you can have eco-friendly garage door services come and install a new door that not only gives you easy access to light, but also helps protect items in your garage from harmful UV rays.
Keep A Schedule
If you have to start to work from home, whether it's every day, or even a few days a week, you can stay on top of things and stay organized by keeping a schedule. That means establishing a start time to your day, taking occasional breaks, and setting a time to clock out for the day. This will also help you keep track of your workload because you can set times for how long you're going to devote to one job task or project before moving on to other job duties.
Working from home can be a nice change of pace, but if you're a person who has trouble staying focused, keeping a schedule can help you stay on the right track. If you're a person who thrives on the structure in an office setting, make a schedule that can stick to it. You'll feel a lot more accomplished if you do.
Get Outside
As you start working from home, keeping a schedule is undoubtedly important. But that doesn't mean you have to literally keep track of what you do every minute of every day or always stick to that schedule. Sometimes taking a break can be the best thing you can do.
If you're not used to working from home and struggling to be productive, take a little break. You can take a quick walk around the block to freshen up and get your creative juices falling again. If you're looking for a change of scenery, you can head to your local coffee shop, grab a cup of joe, and work there for a little while. You can also visit the library for a few hours if you're looking for a more quiet environment. This allows you to get out of the house for a bit while still allowing you to be productive.
Disconnect
In many aspects of life today, you hear about the importance of setting healthy boundaries. That includes boundaries with your work. When the workday is done, log off of your computer. Log out of your email. Put down the devices for a while and take time to relax and spend time with your family. You might also consider developing a phrase or a saying that you repeat to yourself at the end of every day to signal to yourself that the workday is almost done.
Even if you absolutely love what you do, it's important that you're not working 24 hours a day, seven days a week. You need to allow yourself to have adequate downtime to create a proper and healthy work-life balance. Even the most successful people need such balance and you'll be very thankful that you have it.
Invest In The Right Tools
Whether you're an insurance salesman, a baker, an artist, or you work for a telecom company, you need to make sure you have the right tools once you start working from home. No matter what field you work in, you ultimately have to be able to keep in touch with your clients, have a way for them to contact you, and be able to receive messages.
For most people, that means having Internet access and a reliable phone system. Whether you're on the phone all day at home or you're constantly on the go, you can get a business digital phone system that fits your needs. You can do some shopping around to find a good wireless plan as well as a phone system that allows you the chance to present a professional image, work remotely, and keep track of all your contacts. Some businesses also offer cloud-based, VoIP unified communication that allow you to access collaborative and mobile features that serve businesses of all sizes.
Set Some Ground Rules
If you're a working parent, there are many benefits to working from home. For one, during the time of COVID-19, you're likely getting to spend a lot more time with family, especially if your kids are doing remote learning. For another, working from home is a great way to avoid workplace injuries that you might otherwise incur at the office.
But working from home also means you need to be productive. If you've had to start working from home and created a home office, then you need to make it clear to your family when you're in there that it means you're working. Establish some ground rules where you are able to be alone in your office and able to be productive when you need to be. In an age where many important business meetings are conducted via Zoom and other videoconferencing software, the last thing you want is to be interrupted.
Embrace Change
Whether you're working for a big company or you're operating your own small business, it's important to embrace working from home, especially in the times we're in. Working from home can be a breath of fresh air depending on your point of view. By establishing a daily routine, sticking to a schedule, and finding a good spot to work—perhaps in a home office—you can be just as productive as you would be in a normal office setting, and you might feel more comfortable too.
If you run a small business out of your home, you may have your eye on offices for sale and establishing your own storefront.
It's important to be patient and embrace working from home. By talking with technology consulting services, you can get all the latest and greatest pieces of technology you need to start working from home and get your business working like a well-oiled machine.