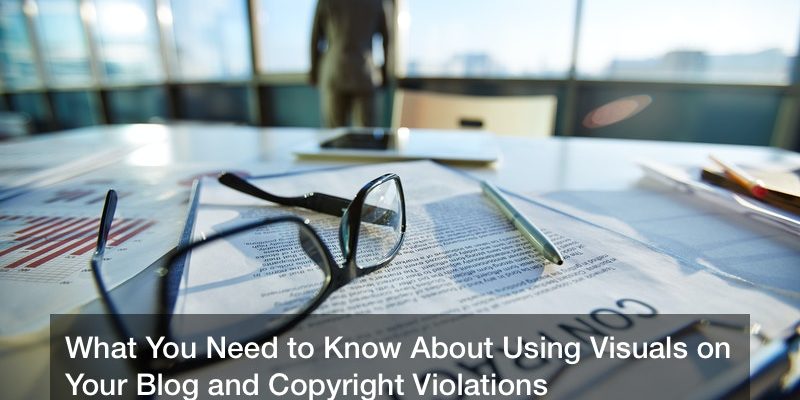 What You Need to Know About Using Visuals on Your Blog and Copyright Violations

Using quality images is crucial for your blog's success against other competing platforms. Photos and illustrations captivate online audiences and are also essential for Search Engine Optimization (SEO). The challenge for bloggers is how to use visuals without the risk of image copyright infringement.
The Digital Millennium Copyright Act (DMCA) came into law in 1998. It aimed to fight piracy and intellectual property theft. This article will look at tips for using content without violating other creators' intellectual property rights.
The Impact of Image Copyright Infringement
Going through the internet, you can find a vast collection of photos. From cartoons and illustrations to professional images, there is a lot that can captivate your blog visitors. But before you use any photograph, it is always advisable to understand the implications of image copyright infringement.
If you have the habit of taking images from platforms and posting it on your blog, you can get into legal problems. The law aims to protect the authors of the content. Some photos are difficult to create, and so most bloggers are tempted to use them without the artist's consent.
Works Made for Hire
If you have an entrepreneur blog, you'll probably want to hire someone to create some illustrations for your blog. They could be in the form of info-graphics, charts, or product images. The US copyright law recognizes that arrangement as work made for hire.
Work made for hire has significant consequences for both the creator and the author of the blog. The author is the one who hires an artist to carry out the task. It could be an organization that has assigned the task to its employee, or a law firm blog that hires a graphic designer.
If you created the photo, it remains under your ownership by default. In most cases of work made for hire, the creator must expressly give consent through a written agreement. Until that happens, the creator is the one with the rights, as suggested by US copyright laws.
Free Use and Attribution
Some websites offer countless images for free. However, you need to understand what attribution entails to avoid image copyright infringement.
First, there is a difference between copyright infringement and plagiarism. Infringing on someone else rights to their artwork has legal consequences. You can be taken to a court of law and may end up paying fines for violating the terms of use. Besides legal problems, it may ruin the reputation of your online business.
Many people consider plagiarism to be unethical. Generally, they do not perceive it to be an offense on the same level as copyright infringement. It is, however, misappropriation of intellectual property. Search engines like Google and Bing can ban your site for both plagiarism and license violations.
You can always get a copyright license for your photos, videos, and software applications. But it may not be possible to license procedures, principles, and rules. For example, it is possible for a blogger to use your smoothie bowl recipe by changing the text. Even though it is plagiarism, it may not always amount to image copyright infringement.
If the visuals have a license, the author reserves the right to decide where and when to post it online. Please do not assume that it is alright to use a photo without clearly understanding its terms of use. Unless it is a Creative Commons, you ought to get their express consent in writing.
Creative Commons
Creative Commons gives bloggers the right to use photos for commercial and non-commercial applications. However, there are terms to follow, depending on the nature of the agreement. Take time to understand the following six types of licenses to steer clear of image copyright infringement.
Attribution: You can use visuals with an attribution license from creative commons, as long as you give credit to the creator. You can adjust and reproduce the images for personal or commercial purposes. It is the only CC license that allows for the most liberal use of the photos.
Attribution-Noncommercial: The license is similar to attribution, except that this version does not extend to commercial work.
No Derivatives: You can post artwork from Creative Commons for personal and commercial applications. But you cannot modify the image.
No Derivatives Noncommercial: This license allows you to reuse the work, but you cannot modify it or use it for non-commercial applications.
Share-Alike: The license allows other creators to modify the image and use it for commercial purposes. It is the license used by Wikipedia to curate images for their articles.
Share-Alike Noncommercial: It has the same terms as Share-Alike, but you cannot reuse the images for commercial applications.
Using visuals from Creative Commons is as easy as placing the icon on the image you post on your blog. But your attribution has to be correct to evade cases of image copyright infringement. Be sure you understand the legal terms of the license and their attribution.
One of the biggest problems with Creative Commons is they offer no guarantee to either the creator or the user. If you are an artist, there is no direct way to take action when there is a violation.
As a user, you must also understand the risks that come with the license. Sometimes images are uploaded without the artist's consent. The sleek photo you have on your florist website could be from a different website with CC icons incorrectly pasted on it. Creative Common has no way of determining the authenticity of all the content on its platform.
Another problem is that the creator could update the license terms. Even though the website does not allow for an update, the user may have to contend with infringement claims.
How to Avoid Copyright Violation
If you are sloppy about how you use images on your blog, you could be subject to hefty fines and a lawsuit. You may need a lawyer to sort out your legal troubles. But there are ways to minimize and even eliminate the risk of copyright violations.
Create Your Own Work
The best way to avoid image copyright infringement is to create your visuals. Not many people feel like they have the time to take pictures. However, being the creator of the visuals has many advantages.
Original images generally fair better on search engine results pages. The image communicates that your content is unique and valuable. Whether you have a floral arrangement blog or a law website, you can always create original visuals.
A smartphone with a high-resolution camera is sufficient for creating visuals for your fashion or wedding blog. You can copyright your photos to prevent issues with breach of the license. Sometimes it can be challenging to prove the creation is your work.
Take the following steps to protect your original work:
Signing Your Work: Whether it is a caricature or a flower arrangement photo, it is always advisable to mark your image. Caricature artists often add their signature and the date of creation on the illustration.
Copyright License: Although your original images become copyright work when you create them, getting a license provides undeniable proof of ownership. You can register online through the Library of Congress website if you are in the US. You will receive a Certificate of Registration after paying the necessary fees.
Keep Original Files: When you create artwork, keep a record of the original files. You may need them to prove you are the creator, in the event image copyright infringement claims are made against you erroneously or otherwise. Store some copies on the cloud as a backup in case you lose the files on your PC.
Using Free Images
Other than creative commons, many other websites offer free images. Most of the websites take content created by the users of the platform. Unfortunately, not all of them will thoroughly check the authenticity of the shared content.
On websites that offer free photos, you should understand the terms of use and their implications. The two common terms you'll encounter are:
Royalty-Free: Royalties refers to the fees you have to pay every time you use the image. For royalty-free licenses, a onetime fee may apply. It doesn't necessarily mean that the image will not incur any costs to use on your website.
Rights Managed: The license specifies how many times you can use the photo after paying a onetime fee. Every other instance, you'll be required to pay an additional fee. It is the opposite of terms available for royalty-free images.
Do a Reverse Image Search
Search engines have a section that enables you to get related image results for the search term you enter. But there are situations where you need to find the source of an image. You may do a reverse search on Bing, Google, as well as third-party websites and mobile apps.
On most platforms, you can either upload your photos or use a link. You can do a reverse image search to determine the authenticity of the content.
For example, a blog may have some visuals cited as their original work. A reverse search will determine if it was ever elsewhere online. Some blogs may contain images that are not relevant to the topic. Using photographs in that manner violates ethical rules.
However, there is a small caveat to using a reverse image search as a tool. Not all images are publicly available for search engines to crawl. Therefore, there is still a window for you to make a mistake and be liable for image copyright infringement.
Best Practices to Avoid Image Copyright Infringement
Using images increases the information retention rate for the users visiting your blog. But there are many other reasons why your posts should have photos.
Images are visually appealing and are easier on the eye. They communicate value to a virtual audience that yearns for tangible proof of your credibility. An exercise club may use images to showcase their facilities and equipment to persuade new clients.
Quality visuals can also make your content much easier to understand. The visuals may be in the form of illustrations of parts of the anatomy to clarify a medical concept. ECommerce blogs often have info-graphics to explain the logistics of their supply chain.
There are some best practices you may adopt to optimize the impact of your images:
Resize: Ensure your images are the right size before posting. Most graphics on your website should be about 1mb so that the page can load faster. You can use an application like Illustrator or their free counterparts like Gimp and Inkscape. Be careful not to change the dimensions of the graphic as it will distort the image.
Compress: You can use image programs to adjust the resolution of your photos. Since many display screens have a low resolution, you can compress the graphic without losing its quality. The software will present web-friendly versions to choose on the 'save web as' option on your graphic application's menu.
Consistency: Your blog should communicate consistency, especially if you are promoting premium brands. That means you need images and text to align and have an easy-to-read format. It is another reason why you should resize your photos before posting them on your blog.
Relevance: Use images that are relatable to the content. That also means the photos should be close to the block of text where you mention a relevant subject. The image could be a map, chart, or a photograph. But your audience ought to quickly recognize its significance.
Variety: It is always advisable to use different types of images to tell a compelling story. Variety also tells search engines that your blog is rich with content. One best practice you may overlook is to use appropriate alt text on your images. Also, adding a caption will make it easier for audiences to understand the visuals and create opportunities for optimizing your SEO.
Watermark: To minimize cases of image copyright infringement by other websites, consider watermarking your work. You can add a signature on some of your whimsical artwork. But for daily posts, it may be challenging to do that regularly. Apps like Envira and Pixabay plugins make it easy for you to add a watermark every time you post.
Using visuals is critical for the success of your blog. Therefore, you need to understand the implications of image copyright infringement. You can find more information on our website today.