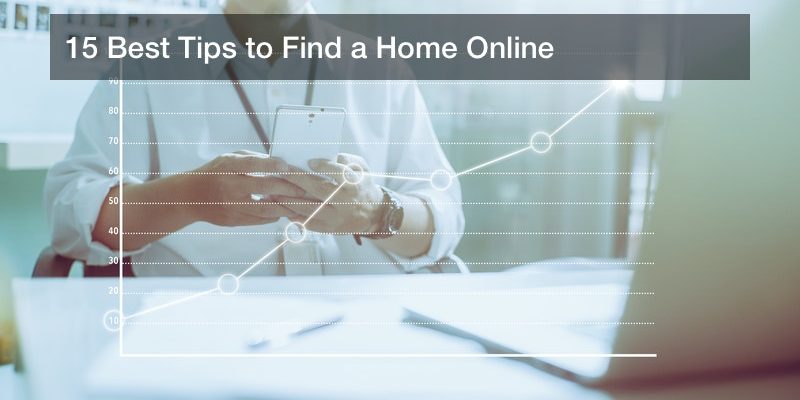 15 Best Tips to Find a Home Online

Buying your first home or condo is one of the greatest feelings in adulthood. It means finally being the owner of a piece of property, creating generational wealth, or for some, it could mean the start of a property business.
Depending on your needs, your home search will be unique and should be tailored to fit your time-frame and budget. Luckily, this unique search can be made a lot easier with the internet. Over 95% of homebuyers now use the internet to find a home online, and with the help of sites like Zillow, Trulia, RedFin, and Yelp, your perfect home search can be one click away.
Why Buy a Home?
If you're like many Americans living paycheck to paycheck, you might be thinking it could be expensive to own a home, but this is not always the case. It's okay to be scared and ask questions about buying and fixing your first home. After all, you don't want to get caught spending thousands in roof repairs, foundation costs, and other hidden maintenance fees. However, don't let these possibilities turn you away from buying a home. When you rent an apartment, you are spending money on someone else's property. That money, as opposed to going into a condo or home, never appreciates in value, can be subject to change if you live in an area without renter's rights, and overall is a waste of precious income the longer you go without buying property.
Buying property is always a great idea, the sooner the better, as it increases in value over time, and can make you a pretty penny. Whether you find a home online, fall in love with an open house, or get inherited property, having something you own is one of the best investments you can make.
Where to Start?
As we mentioned, most people nowadays choose to find a home online, because it's easier than browsing listing after listing of open houses. In addition, seeking the help of a realtor, certified financial planner, and even the help of family members who have been through the process of home-buying are all incredibly helpful. To help you with your search to find a home online, here are 15 tips you can use to begin your home-buying journey.
1. Save up Money
You might be flabbergasted when first doing a home search, and think you can never afford a new home. However, most homes, depending on your credit and whether you're buying or building, require anywhere between 5 and 20% down on the home. What this means is if the home you want is $300,0000, then 5% down means you must pay $15,000 upfront. When you find a home online, make sure to look at how much the homes you are looking at cost, and calculate the cost of 5% to 20% of those prices. This is a great starting point, and can give you the confidence you need to continue the search for your home.
2. Plan your Property Goals
Whether you're looking at selling a home once the equity goes up, renting it out to someone else, or building a luxury home to later sell, it's important to understand what your property goals are from the beginning. These goals will affect how much you're willing to spend, and how important different features are to you. For example, you might not want to live in the suburbs, but know that these areas are attractive to large families and therefore easier to sell. Before you continue to find a home online, sit down with your family and friends and talk at length about the best game-plan for your property investment.
3. Look for Location
Location is one of, if not the most important, aspects of buying a home. A condo or even a small apartment in a great location can still have the potential to increase in value and make you a great return on investment. However, if the location you live in is staggeringly expensive, such as Southern California, perhaps consider moving to the outskirts of the city and settling down there? Whether you're looking at waterfront homes specifically next to the beach, homes in the country, or condos in the city, many sites such as Zillow offer custom location search options on their website. Make use of these location features to find a home online.
4. Consider Buying or Building
Buying a plot of land is still just as important as buying a fully-built home. Location, the price per square footage, and landscape are all important things to consider when finding a plot of land online. You can either drive around and look for various plots of land on sale, or you can utilize websites online such as landwatch.com to find your next plot of land. Remember, however, that though there are rehab loans out there to help you build upon the plot of land, buying land usually means spending more money down initially.
5. Compare Prices
Though you might love the home you just found online, and will be willing to spend anything on it, it's important to compare prices of other homes when you find a home online. Look at the prices of similar homes near the area of the one you're buying, and don't settle for anything less than the best price.
6. Research Realtors
Combining the help of a realtor along with your online tools can help speed up the process of buying your new home or condo. Realtors are highly trained in the home-buying area, and can tell you the truth about the location, price projection, and overall area you are looking to buy in. For example, certain areas might be more prone to crime, have not-so-great schools, and overall could be a bad decision to move in and still not look like it online! A realtor can use their expertise when closing out your home as well, and make the closing out process as smooth as possible.
7. Look at Lots of Photos
Looking at photos online might be the best part of trying to find a home online. But, it could also be a make or break point as well. If the photos are already showing careless and shoddy work, dirty living quarters, or even if there are no photos at all, this could be a red flag and sign that the property you're interested in needs more work than you might think. Look at lots of pictures of your future home, have fun, and don't be scared to ask for more pictures by e-mailing the realtor on the online listing!
8. Look at History of Price Listings
With the help of the internet, it's now possible to look at the history of the price listings on a home you're interested in. This is a great tool to use to know the trends of the area you're looking in, and can help you make a great decision when investing in a future property. For example, a home that is now listed at 350,000 and sold in 2017 for 250,000 is a great property to consider. The equity on the home went up 10,000 in only 3 years! However, if you see a home that is selling for 150,000 but sold in 2015 at 125,000, the equity might be slower to grow, and thus not a great investment.
9. Know your Desirable Features
It's okay to look at a home with an open mind and not know what you want before you see it. For example, you might not know you wanted high-ceilings until finding a home online with them. It's also okay to be flexible on smaller features as well. If you're set on a frameless glass shower, for instance, this can easily be installed later on. However, have a general idea on what features you want that are essential in your new home. For example, the number of rooms, bathrooms, square footage, parking spaces, and HOA fees can all be important factors and difficult (and pricey) to change later on. When you find a home online, don't hesitate to use the filter features online to eliminate any homes that just won't fit your lifestyle.
10. Consider your Time Frame
Closing out a home can be a difficult process if you don't have the proper legal and realtor help along with it. However, with the proper help, closing out a home can take as little as one month. However, if you're bidding on a home, need to go through the pre-foreclosure process, or are building your home, the timeline from leaving your apartment to moving in can take way longer than one month. This is important to consider when you find a home online. Check listings and know whether the home is for sale, in pre-foreclosure, and get the help of a realtor to help you as soon as possible.
11. Research your Loan Options
When you find a home online, many sites will put you in touch with a realtor who then can help you get pre-qualified on a loan. Though this is a good route to take, consider other loan options when finding your home online. For instance, if you're a veteran, you could get a loan with VA home loans, which can lower your interest rate and even help you buy a home with no money down! This is just one example of the many options you might have when finding a loan. Make sure to research all options online to get the best loan possible.
12. Hire an Inspector
Once you've found a home online, have sought the help of a realtor, and are ready to view the home in person, it's important to hire an inspector to help you during the closing process. An inspector can help save you thousands of dollars by finding problems during a home roof inspection, foundational problems, even problems with pests that can arise. You can demand these issues be fixed by the previous owner beforehand and use them as leverage to lower your initial home price. Using sites such as Yelp and Google Reviews can help you find the best rated and best priced home inspectors in your area.
13. Know what your Budget is
Whether it's spending a little extra money on area rug cleaning, movers, home inspectors, and everything in between, you must calculate your budget before moving to avoid any issues. In addition, look online to find what the property you're buying requires in-home fees, insurance, and property taxes in addition to the estimated monthly mortgage payment. Budgeting for all these costs beforehand will save you heartache and headache if you feel you cannot afford the property you found online.
14. Consider Private Listings
If you've used various online websites but still feel you cannot find the right home for you, not to worry. Private listings are homes that haven't utilized digital marketing services, and instead are available to view only through your local realtor. These private listings are tough to come by, as they are only passed through word-of-mouth from agent to agent. However, a quick internet search can lead you to a great real estate agent that has knowledge on these private listings.
15. Hire Great Contractors
Once you've found a great home online, there is still room to improve if you have the budget for it. Hiring the help of some great contractors that have good reviews online can help you put the finishing touches on your home. From putting up a vinyl fence you've always wanted to installing modern finishes in your home, a great contractor goes a long way in helping you make your dream home a reality. Don't hesitate to reach out to a garage door service for help.
Don't Give Up
The process to find a home online can be fun, and with the help of online tools it can be easier to budget, find extra help, and overall seal the deal on your new home. It's important to check listings almost daily, utilize reviews for realtors and contractors, and not give up on your online search for your forever home, or your first investment property.